Kia Ora and welcome to your New Zealand Experience.
We have put together a showcase on your suggestions and have included a range of great activities along with a stunning selection of lodge and boutique hotel offerings. Your expert travel planners Samuel St George and David Maxwell will make sure you are in good hands while experiencing this incredible country. New Zealand is the perfect playground for some once in a lifetime activities. These include heli-fishing, cultural experiences, and of course geothermal and outdoor experiences.
This promises to be one special journey. We look forward to hosting you throughout this fantastic experience, and welcome to New Zealand.
Just a 45-minute flight north of Auckland is the stunning Bay of Islands, one of NZ's top tourist drawcards. With its unspoiled coastline, beautiful sandy beaches, turquoise waters and 144 untouched islands, this region enjoys a subtropical climate, and so you can expect warm weather year round. The Bay of Islands Maritime Park is one of New Zealand's best loved destinations, offering world-class diving and snorkeling, with an array of wildlife including, dolphins, whales, penguins and gannets. It also has great sailing, kayaking and big-game fishing. Not only is the region blessed with stunning natural beauty, it has enormous historical significance, as the site of New Zealand's first permanent British settlement and the birthplace of European colonisation in the country.
ACCOMMODATION OPTIONS
Kauri Cliffs is a stunningly beautiful 5,400-acre estate, set on a remote plateau, high above the Pacific Ocean. It is home to one of the world's most renowned golf courses, with most holes offering amazing views of offshore islands and the magnificent Pacific Ocean. Besides golf, the estate provides many other activities, including swimming, hiking, horseback riding, hunting, fishing and sailing. Kauri Cliffs is a sister property of Cape Kidnappers and Matakauri Lodge.

Website HERE
The Landing is located in a unique heritage and conservation property in the Bay of Islands, comprising a thousand acres of rolling hills, beaches, wildlife sanctuaries and historic sites. The Residences at The Landing are a group of privately owned houses, offering premium luxury and comfort in unparalleled surroundings, all tucked away in your own private bay. The houses range in size, and can sleep between four and 12 people.
Location: Purerua Peninsula, Northland
Website HERE
Eagle's Nest is a world-class, architecturally designed retreat that commands a majestic position overlooking the spectacular Bay of Islands – hence its name. With five guest villas, each with a personal chef, this lodge is a must for the luxury traveller. To top it off, panoramic views of the Bay of Islands are out of this world.
Depart your Bay of Islands accommodation property or central Paihia for your 30 minute (approx) helicopter flight across to Omapere where you will be met by your Footprints Waipoua guide. Footprints is operated by local Maori on Northlands rugged West Coast. Let Kupe's (NZ's first discoverer) descendants take you on a guided walk of the largest kauri forest in the world and introduce you to their relationship with Mother Nature, both spiritually and culturally. A highlight of your experience with Footprints will be an introduction to Tane Mahuta – God of the Forest. (Forest Tour duration approx. 1.5 hours). From Omapere you continue to the Cape Reinga region via Northlands spectacular West Coast and of course the famous Ninety Mile Beach. Kauri Cliffs will prepare a snack pack lunch prior to your departure.
The Cape Brett Track traverses rugged terrain for 16 km through native and regenerating bush. Expect dramatic coastal views; steep cliffs and drop-offs to the side of the track are a feature. Stunning coastal scenery, overnight option, native bush, freshwater streams, beaches, crystal clear water and more. From the bush clad ridges, you'll view spectacular vistas right across the Bay of Islands. Nearing the Cape, walking alongside the dramatic cliff-face, you can see abundant fish and bird life below – sometimes dolphins and seals will come close to shore. From Deep Water Cove onwards, the track gets more challenging and becomes quite exposed with steep drop-offs to the sea below. Although it is not that far to the lighthouse, it will take you about 2-3 hours. The effort is rewarded with outstanding views of the outer Bay of Islands, north to the Cavalli Islands and south to Whangaruru and beyond to the Poor Knights Islands.
With its picture-postcard setting on the shores of the 240-square-mile volcanic crater lake from which it gets is name, Taupo (pronounced Toe-Pour) is one of the North Island's premier resort towns. It has an abundance of great hikes, and is the jumping-off point for the famous Tongariro Alpine Crossing. The impressive Huka Falls are nearby, which also has great nature walks. Located at the geographic center of the North Island, the region is one of the most pure, beautiful and unspoiled parts of the country and is home to some of New Zealand's most dramatic and spectacular forests. It is also a magnet for fly-fishing, and is emerging as one of the country's most popular cycling destinations, both road and off-road.
ACCOMMODATION OPTIONS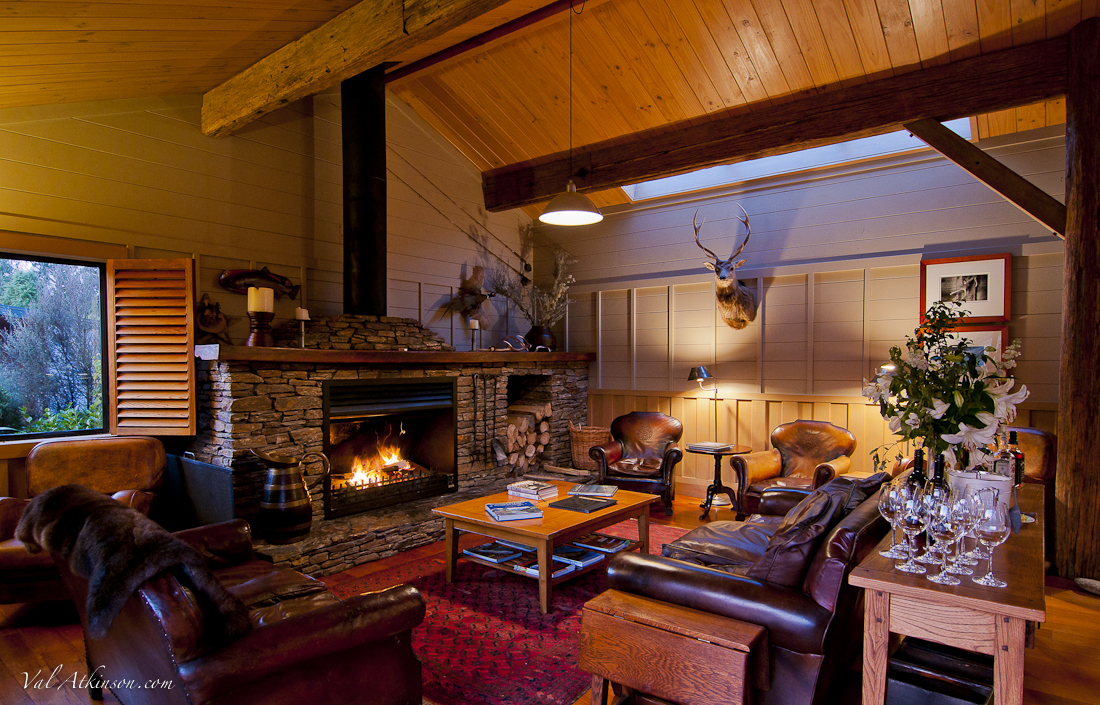 Nestled in the secluded Taharua Valley, Poronui boasts some of the world's best wilderness experiences, breathtaking scenery, and genuinly warm hospitality. It is the attention to the little things that makes it truly memorable. To discriminating anglers, Poronui is an historic fly fishing lodge, where they fish for resident, wild, brown and rainbow trout in pristine waters.
Location: Taharua, Taupo
Website HERE
An hour's flight southeast of Auckland is Hawke's Bay, a region of diverse and magnificent landscapes, from mountains and hill country down to inland and coastal plains. Blessed with fertile, alluvial soils and a warm temperate climate, Hawke's Bay is home to hundreds of farms, orchards and vineyards, making it New Zealand's agricultural powerhouse. For the tens of thousands of visitors that flock to the region each year, it's the food and wine that are the biggest draw cards, and with good reason, as the Hawkes Bay produces some of the best of both the country has to offer. On the coast, sits the town of Napier, one of New Zealand's busiest commercial ports and host to a growing number of cruise ships. It's also the country's Art Deco capital, having been almost completely rebuilt in the Style Moderne after a devastating earthquake in 1931.
ACCOMMODATION OPTIONS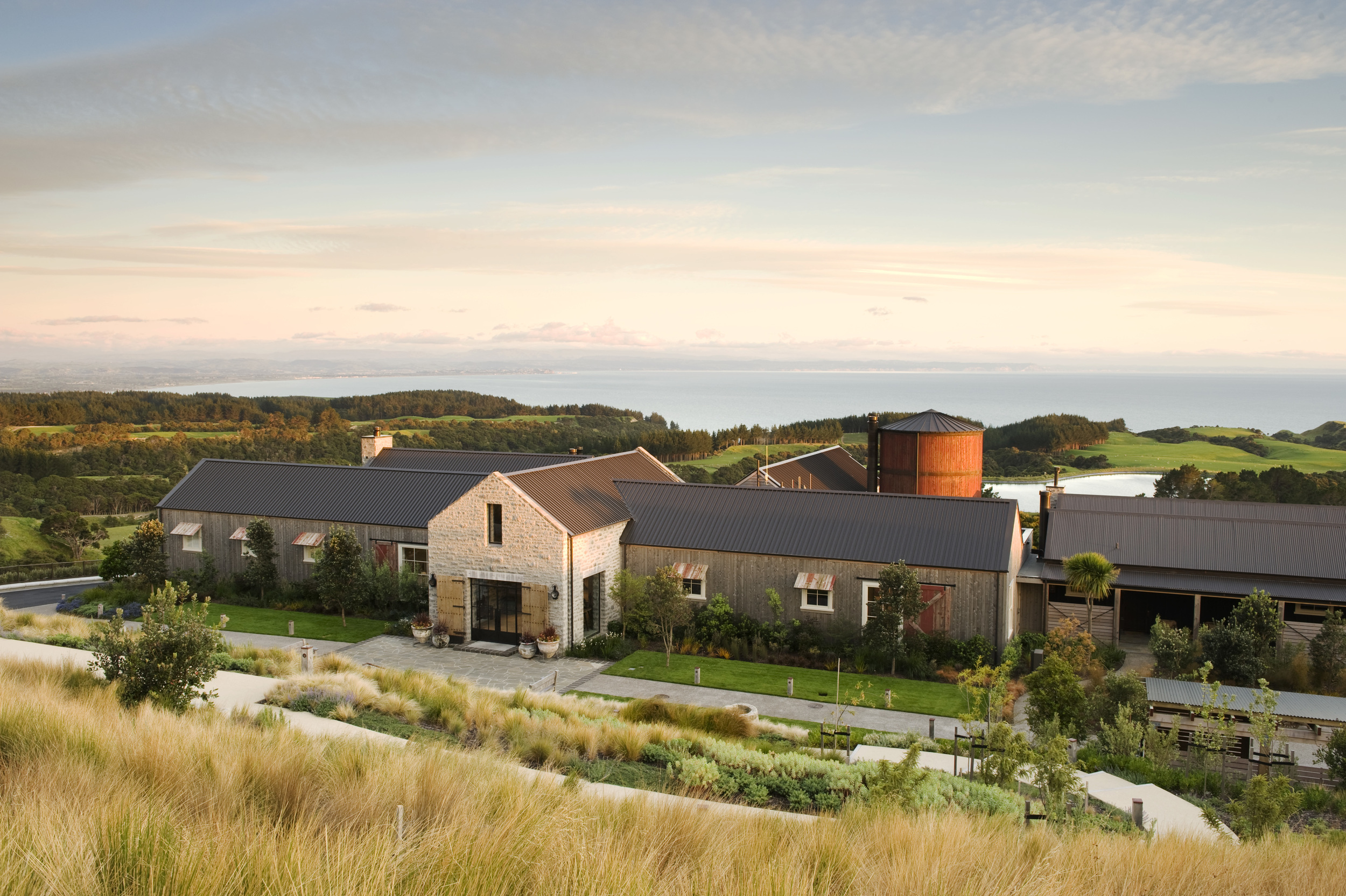 Set atop 6,000 rolling acres of stunning pastureland, The Farm at Cape Kidnappers affords spectacular 180-degree views of the Pacific Ocean. The cluster of luxury lodges at Cape Kidnappers are suggestive of a working farm – a marriage of river stone and weathered wood – and are the perfect setting for relaxation, seclusion, or romantic breakaways. Inside, the lodges combine rustic and textured materials with comfortable modern furniture. The are 22 suites available on the property, as well as the Owners Cottage, which is also available upon request.
Click HERE for website
Black Barn Retreats offers 16 unique properties scattered throughout the Hawkes Bay region. The houses are all fully self-contained and exclusively yours during your stay. Each has its own character and their locations are varied, such as coastal, vineyard, riverside and rolling hill backdrops. Every property is luxuriously appointed to reflect its individual character – from an eight-bedroom luxury retreat, to an intimate two-bedroom cottage in the heart of a vineyard. Take your pick – Black Barn Retreats offers an array of unique experiences.
Since the Art Deco Trust began showing the city's Art Deco treasures to tourists in 1985, thousands of people each year have experienced Napier's fascinating heritage and have been captivated by the dramatic story of this city's rebirth in the vibrant 1930s. In February 1931, Napier was levelled by earthquake and fire but was rebuilt in the depths of the Great Depression in just two years. Nowhere else in the world can you see such a concentration of buildings in the styles of the 1930s: Art Deco, Spanish Mission and Stripped Classical. Whatever you choose, you'll hear the story of the earthquake that devastated Napier in 1931 and be introduced to the Art Deco style and hear stories of the characters involved in rebuilding this city.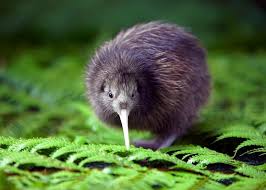 As a guest of The Farm at Cape Kidnappers you are offered an exclusive experience to view our treasured native bird – the Kiwi. Because the Kiwi is a semi-nocturnal, secretive bird, few New Zealanders have seen their national bird in the wild. The Kiwi is the sole survivor of an ancient order of birds including the now extinct Moa.
About two-thirds of the way down the South Island, in the middle of the Southern Alps, sits Lake Wakatipu, and on its shores, Queenstown. If ever a town deserves its reputation as the world's adrenalin capital, surely this place does. You can bungee jump off bridges, or even out of a helicopter, take a jet boat ride through white-water canyons, heli-skiing in virgin powder snow, go extreme mountain biking, zip-line through valleys, and paraglide off mountains – you name, you can do it in Queenstown. There is, however, a more gentile side to Queenstown – one that includes luxurious, world-class lodges, superb wineries, great restaurants and scenery to die for… and five international-standard golf courses. This picturesque lakeside town has it in spades, whatever the season, whatever the activity. It absolutely must be part of any itinerary when visiting New Zealand.
ACCOMMODATION OPTIONS